Beers - Copper Dragon Black Gold
All Beers Are Available In Cask or Bottles To Suit Your Needs.
Contact us for more details on the products available
Copper Dragon Black Gold £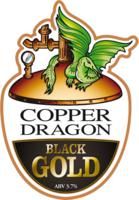 Black Gold is made from a recipe created from restored brewing records .Dating from the 1800's the use of traditional coloured and roasted malts give this ale a unique rich and luscious flavour. ABV 3.7% Also in bottles
We will contact you to confirm order, payment and delivery details.